Once a no-go zone, West of the Canal — the Hamptons towns west of the Shinnecock Canal that include Quogue, Westhampton, and Hampton Bays — is becoming not only highly desired real estate, but also super stylish. You can thank the uber-luxe Canoe Place Inn & Cottages in Hampton Bays for transforming the area into a prime travel destination.
The location has a wildly colorful history. The skinny spit of land that Canoe Place Inn (or "CPI," as habitués have dubbed the spot) occupies sits between Peconic and Shinnecock Bays, and was once called Niamuck, which means "the place between the fishing places," by the local Native Americans who settled there. It was later renamed Canoe Place in 1697 and served as a way house and trading station before eventually becoming an inn and tavern in 1756. In 1902, the Waldorf Astoria's Ernest A. Buchmuller took over and turned Canoe Place into a fashionable retreat that counted guests like Lucille Ball, Albert Einstein, and John D. Rockefeller as regulars. But in 1921 a fire destroyed everything— save for two chimneys. A decadently popular speakeasy popped up before being shut down by federal agents disguised as rich patrons. From the 1980s to 2000, Canoe Place Inn was a raucously loud nightclub complex that held concerts by Jon Bon Jovi, Led Zeppelin, and Billy Joel. When the venue died, the building was all but forgotten until 2005, when cousins Gregg and Mitchell Rechler stepped in to buy the six-acre property.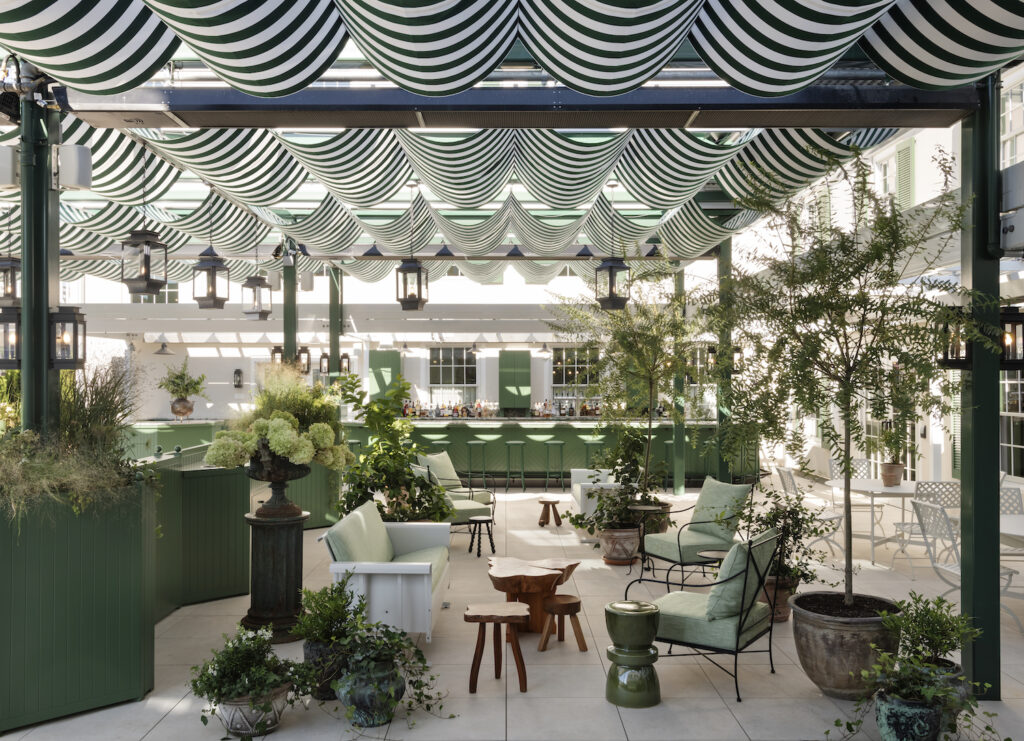 The largest commercial landowners in Long Island, the industriously creative Rechlers spent over a decade (and millions of bucks) transforming the massive 1922 Dutch Colonial Revival building, which was designed by William Lawrence Bottomley. They painstakingly restored the historic property and enlisted Brooklyn-based Workstead (of Le Rock and Jupiter fame) to redo the interiors, which include 20 guest suites and five cottages. Think nautical chic and a dash of Swedish austerity, with claw-foot tubs, canopy beds, and roaring fireplaces. The cottages, though, are what to book, and come fully loaded; with working kitchens, back porches to lay about, private firepits, and enormous bathrooms stocked with the cult beauty brand Costa Brazil, they feel more like fancy rental houses than hotel rooms. Even the most jaded, pampered Hamptonite will be impressed.
Canoe Place Inn manages to marry its colonial provenance with the feel of a five-star resort. There's a glamorous Hollywood-style pool to swan around in, a spa from Onda Beauty, cofounded by Naomi Watts (book the transformative "Ultimate Lift Advanced" facial), a grand ballroom with soaring ceilings that can seat 300 for dinner (attention wedding planners), and an impressive art collection that includes an oversize deer sculpture by Tony Tasset in the garden and a Doug Aitken piece constructed from reclaimed denim swatches that commands the reception area. The hotel's restaurant, the Good Ground Tavern (read our review here) is impressively helmed by Relais & Châteaux veteran chef Ülfet Ralph and serves locally sourced seafood (the bay is just across the street), homemade pastas, and open-oven pizzas with room for 100 indoors and 120 outdoors under a curving green, awning striped canopy. And, of course, there is a beach service that will transport you to a waiting paddleboard, kayak, or canoe — a stylish throwback to Canoe Place's rich past.