"Worst mayor ever" is a phrase that few New Yorkers, over the past eight years, can claim never to have heard. But in the city that practically invented kvetching — or at least elevated it to an art form — any reasonable burgher would allow that a similar complaint could have been heard on the streets at almost any point in the metropolis's 397-year history.
We've certainly had some duds, ranging from the merely venal to the outright evil. Fernando Wood, for example, was the pro-slavery mayor who, on the eve of the Civil War, proposed the city should secede from the Union in sympathy with the South. Then there was William O'Dwyer, who resigned in 1950 to become ambassador to Mexico just when the Brooklyn DA started asking questions about contributions his campaign received from organized crime.
For sheer panache, however, nobody could hold a candle to one of O'Dwyer's predecessors in the infamous Tammany Hall machine: New York's 97th mayor, James John "Jimmy" Walker.
A Prohibition-era dandy who stuffed his pockets with bribes while proving to be a remarkably effective civic manager, Walker is one of the most colorful rogues in New York City history. His reputational rehabilitation began almost the moment he was drummed out of town in 1932, hightailing it to Europe with his mistress.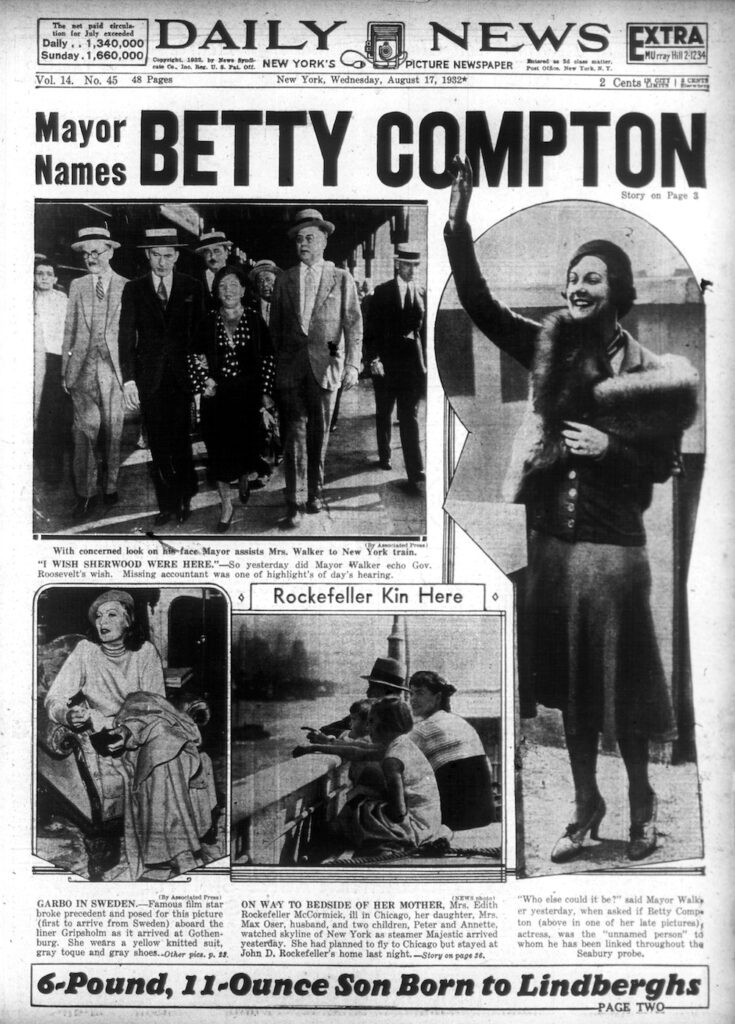 Walker's life inspired a 1969 Broadway musical, Jimmy, and in 1957 Bob Hope played him onscreen as a wise-cracking bounder with a heart of gold in Beau James, based on a biography of the same name. "There's only one reason I'd consider [running for mayor]," Hope says early in the picture, jabbing his thumb at the Manhattan skyline. "I love this cockeyed city more than anything else in the whole wide world."
His estranged wife, used to his infidelities, replies: "Maybe that's because you haven't met another city yet."
The script, with its one-to-one ratio of schmaltz and gags, actually wasn't too far removed from its real-life inspiration, who was prone to saying things like, "I'd rather be a lamppost in New York City than the mayor of Chicago."
Born in 1881 as the son of an Irish immigrant carpenter, Walker's initial goal was to make it as a Tin Pan Alley songwriter. But his one sentimental hit, "Will You Love Me in December as You Do in May," was not enough to sustain a career, and he ended up in the New York State Assembly by way of law school.
In Albany his mix of populist and progressive policies — he was for social welfare, legalizing boxing, and allowing movies and baseball games on Sundays, and against Prohibition and the Ku Klux Klan — caught the eye of Governor Alfred E. Smith, who backed him for New York City mayor. He won the 1925 election by more than 400,000 votes.
Walker's tenure in City Hall was lurid by any standards: his bribability, womanizing, and patronage of the town's illegal speakeasies were an open secret, giving rise to another nickname: "the Night Mayor." While his wife stayed home and out of sight, the Ziegfeld Follies showgirl Betty Compton served as something of a public mistress. He squired her around town in his $17,000, silver-trimmed black Duesenberg (with an open cab for the chauffeur), which he coyly referred to as "a gift from an admirer." Such "gifts" were so flagrant, it was hardly surprising that under his administration, the police force became a national punchline for its perceived corruptibility.
Walker was also infamous for his frequent vacations and short workdays, which often consisted of just a few hours beginning at 3 p.m. When his political opponent and eventual successor, Fiorello La Guardia, attacked him for raising the mayor's salary from $25,000 to $40,000, he quipped in response: "Why, that's cheap. Think what it would cost if I worked full-time!" Which perhaps makes it all the more surprising that Walker was such a superb city manager.
He invested in public utilities like waterworks and subway lines; created the departments of sanitation and hospitals, and greatly improved the city's docks, parks, and playgrounds. Even critics had to begrudgingly admit he got things done. Robert Moses, that other great remaker of New York, said of him: "Jimmy was the extrovert, the spontaneous eccentric, the sidewalk favorite, the beloved clown, the idol of those who seek companionship and mercy above and beyond justice." By his standards, that was a compliment.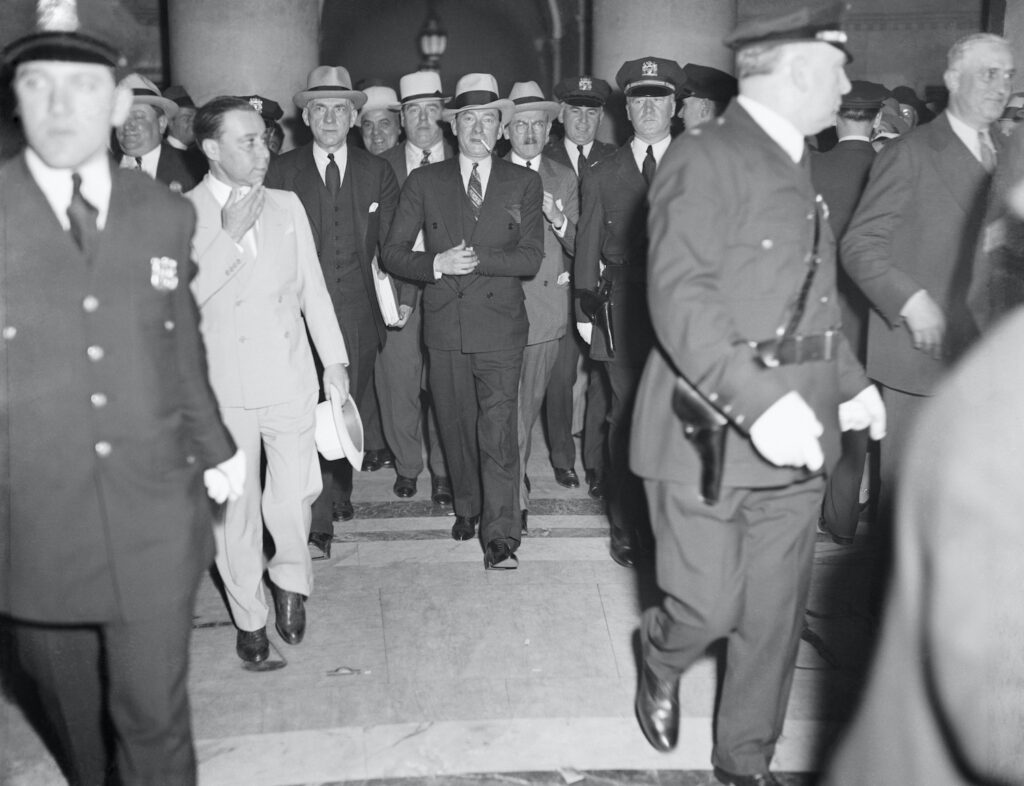 Voters reelected Walker by a large margin in 1929, but by then the storm clouds had already started to gather. The first domino to fall was the unsolved murder of a notorious mobster, Arnold Rothstein, in 1928, which shook up the underworld and humiliated the police. It didn't help when investigators found records indicating the late capo had been "lending" money to his honor the mayor.
Next came the stock market crash of 1929, causing social unrest that swept through the city like a tidal wave. Cardinal Archbishop Joseph Hayes blamed the economic disaster on the mayor's lax morality; the Seabury Commission, which investigated civic corruption, put him squarely in their sights; and an ambitious governor, Franklin D. Roosevelt, made removing Walker a centerpiece of his campaign for the White House.
Then came the murder of a witness who had testified to the commission about police malfeasance, and the mysterious disappearance of a New York Supreme Court justice — two national scandals that heightened the perception of lawlessness in Walker's New York. Facing pressure from Roosevelt, and questions from investigators about the various payments he received (he called them "beneficences," not bribes), Walker resigned in September 1932. He and Compton were on a steamship to France less than two months later.
While the couple married in Cannes, and adopted two children, it would not be a long union — he ended up being the third of her four husbands. Walker returned alone to the United States before the war, where he ran a record label and hosted a radio show, succumbing to a brain hemorrhage in 1946 at the age of 65. Left alone by investigators, he remained endeared to New York sports fans, and in 1992 was inducted into the International Boxing Hall of Fame.
"I have lived and I have loved," Walker said near the end of his life. "The only difference is, I was a little more public about it than most people."