A full moon illuminates a circle of women holding hands around a firepit on a beach off Gin Lane. After dining at Le Charlot, the pricey French bistro on Southampton's Main Street, Ross School moms cross the street to take ketamine-assisted trips. Up the hill, the Shinnecock Reservation has built a legal cannabis store. Micro- (and macro-) dosing is more popular at blue-blazer cocktail parties than cocktails themselves.
Nope, this isn't Woodstock. Welcome to the Age of Aquarius. The Hamptons have totally gone hippie.
Long a bastion of conservative, WASPy close-mindedness, the Hamptons have found a spiritual awakening: some say it's a return to the freewheeling '60s and others say it's a new wave of consciousness. Whatever "it" is, it's everywhere this summer.
Zuzanna von Salm, a former fashion model, discovered meditation and, through it, her true purpose. Having delivered her twins with a combination of self-hypnosis, visualization, and breathing techniques, she now coaches other women through natural birthing. "I wanted to offer an effective meditation method for my pregnant and birthing clients, and hypnobirthing is that and so much more," she explains. "It educates and empowers women and reminds us about the incredible abilities of our minds and bodies." Every full moon, at different Hamptons locations, von Salm leads "Ceremonia Meditation" — a gathering of well-off women craving connection through rituals like sage-smudging, combined with music, meditation, and plant-based food. Von Salm also offers classes in meditation when she's not leading spiritual retreats for Hamptonites (her next one is in Morocco).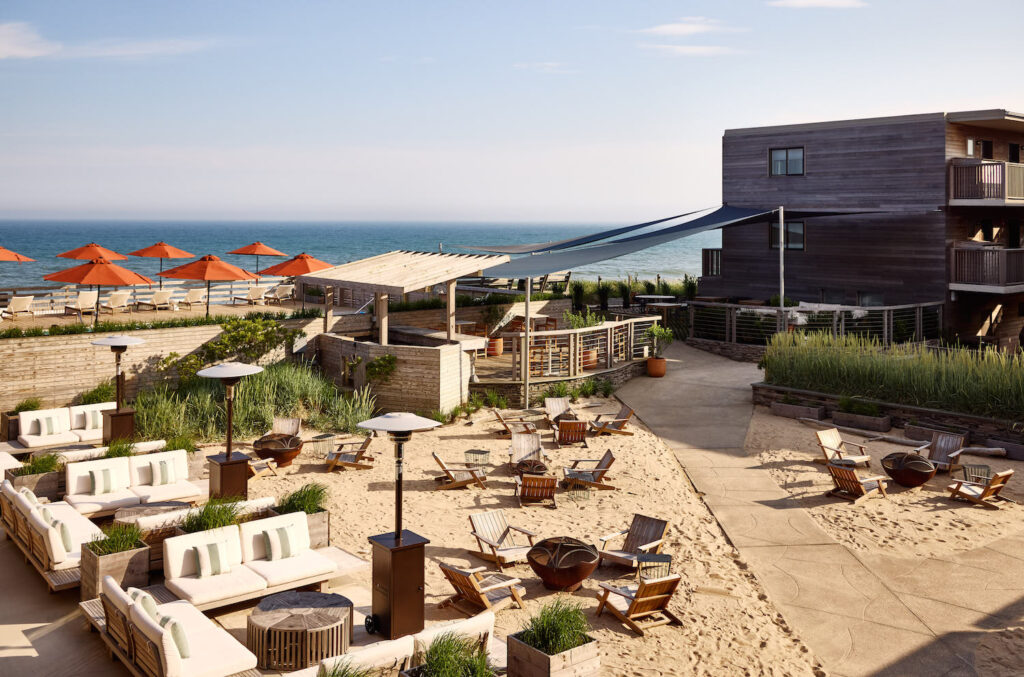 In 2019, von Salm married Count Graff Karl Ludwig Constantin Georg Julio Maria von Salm Hoogstraeten ("Ludi" for short) at his family home, called the Port of Missing Men, where they now reside. The house belonged to Ludi's grandmother, Mary Millicent Abigail Rogers, granddaughter of Henry Huttleston Rogers, an early senior executive at Standard Oil. In a 1996 study, Rogers was ranked as the 22nd-wealthiest American to have ever lived. Ludi and Zuzanna von Salm were Hamptons hippie pioneers. The couple's wedding featured a fire ceremony, a tarot card reader, a poetry station, and an "aura" photo booth. Three hundred guests, including Lauren Santo Domingo and Zani Gugelmann, joined in the celestial-themed, bohemian celebration — a combination of serenity and psychedelic energy that would foreshadow the bride's career path. "I'm excited about the psychedelic renaissance," von Salm says. "The mental health crisis is real and the more choices we have — to be physically, mentally, spiritually healthy — the better. If they are authentic, safe, and practiced properly, of course."
Once the domain of Timothy Leary and the radical "turn on, tune in, drop out" accolades of the 1960s, today, mental health advocates are recognizing that substances such as DMT (the active ingredient in ayahuasca), LSD, and psilocybin (found in magic mushrooms) may lessen the effects of PTSD, depression, and addiction. It's now commonplace at seated East Hampton dinner parties for guests to skip cocktail hour and micro-dose mushrooms or pop a THC gummy bear.
Psychedelics continue to trend. Michael Pollan's bestseller, How to Change Your Mind, chronicles new research into the medicinal properties of psychedelics. Gwyneth Paltrow's Netflix show, The Goop Lab, showed staffers in ayahuasca healing sessions in Jamaica. Last season, football star Aaron Rodgers credited psychedelics for giving him his best year in the NFL yet.
In 2022, Dr. Lea Lis debuted the Hampton Insight for Psychedelic Therapy in Southampton, where she treats patients with ketamine-assisted therapy. First synthesized in 1962, ketamine was known mostly as a horse tranquilizer and, later, a club drug (Special K). But recently it has been recognized as a powerful tool for treating mental health issues. A double board-certified adult and child psychiatrist, Dr. Lis offers comprehensive assessments and guided spiritual journeys, in addition to professional psychotherapy. "We recommend six sessions to really feel the effects," she says. "It takes time to process it." Dr. Lis sees a wide range of patients, some with severe depression and some who want to quit smoking or drinking, begin a new exercise routine, or learn how to communicate with their family in a more loving way.
Patients relax in soundproofed rooms with comfortable reclining chairs and are led through the experience of letting go of years of trauma — "a core release," as what Dr. Lis calls it. "You drop your ego and can really see where your adopted ideas have come from. The process rewires the brain to believe that anything is possible," she explains, en route to a retreat in Montauk, organized by Cristina Cuomo. "Psychotropics like Prozac or Zoloft can be a bit of a Band-Aid; but with psychedelics the promise is lasting healing," she promises. "And ketamine is just the start. There is a 67% cure rate of PTSD for MDMA for use in trauma. It's so profound, the FDA is fast-tracking it." (MDMA's more common names are Molly or Ecstasy).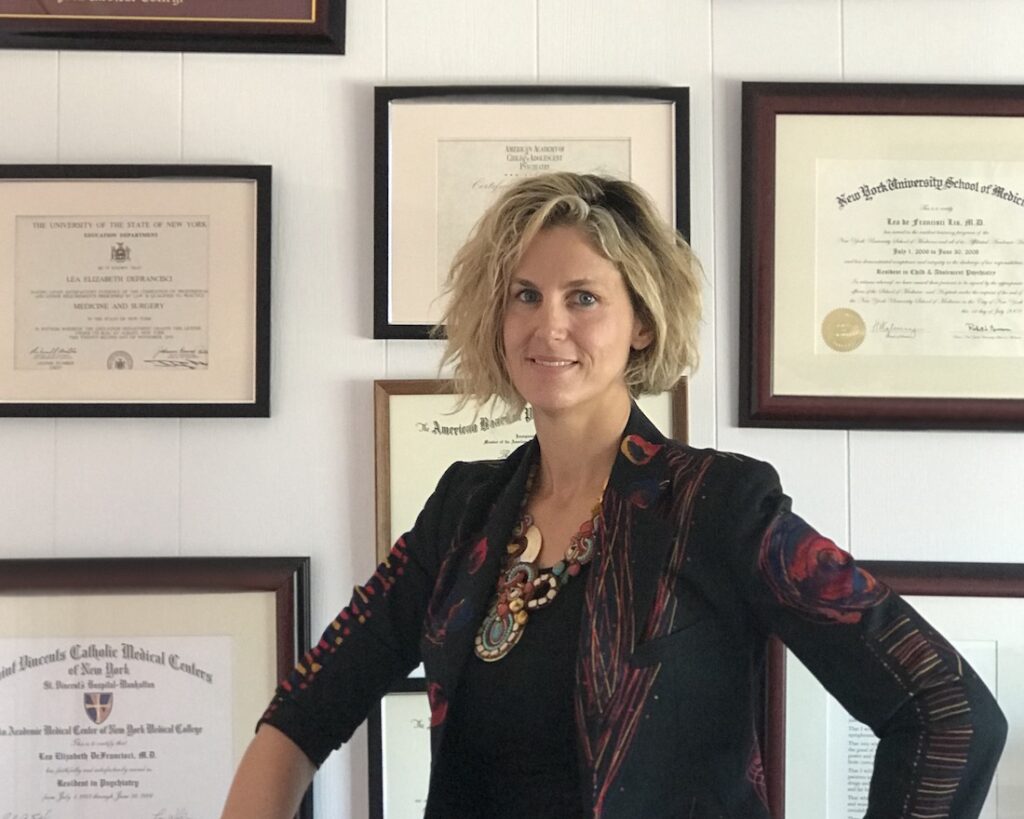 Last year, actor Lucas Baker, who lives in Bellport, was struggling with depression. At 32, he was in "a very dark place" and, while highly functioning, he realized his life was driven by anxiety. "After life started opening up after the pandemic, it became overwhelming to me and I didn't know how to vocalize it to anyone," he admits. It reached a point where he was considering suicide. "I had worked with suicidal teens at the Trevor Project, so I knew where my safety level was at," he says. "And I understood the steps I had to take, but it is so difficult to navigate mental healthcare, and no one was really telling me what to do." When a friend told him about ketamine-assisted therapy, he decided to try it. "I immediately got a new perspective: life is a swirling ball of darkness, but I'm still here," he says. "A moment came over me when I knew: I am going to be ok." Baker continued treatment after two weeks (ketamine can be administered via nasal sprays, infusions, and orally) and then he felt like he had reached a plateau, so he stopped. But its effects have stayed with him. "[Ketamine] can connect you to a higher power, connect you to the universe, and connect you to yourself," says Dr. Lis.
At a recent party in the estate section of Southampton, several guests, including a well-known photographer and a successful event planner, eschew drinking in favor of "shrooming."
"Busy working people don't have time for hangovers," the photographer reasons. At the Southampton Arts Center, a popular summer program is their "Sound Bath & Meditative Music Concert." Described as"blissful," one devotee credits sound baths for bringing inner peace into her hectic life. Wave Wellness of the Hamptons just opened a center in Sag Harbor, offering infrared sauna sweat sessions, chromotherapy, CBD treatments, and energy and healing sessions. And, at the luxe Marram hotel on the beach in Montauk, tarot card and astrology readings, as well as private energy healing (from an in-residence intuitive healer), are all popular programs with their guests. Cristina Cuomo, the editor-in-chief of the health and wellness magazine Purist, isn't surprised by people turning to alternative medicine in today's chaotic climate. "In these times of heightened mental health stressors, any opportunity for insight and inward reflection is going to help alleviate the effects of trauma and move one into tranquility," Cuomo says.
"Most participants are looking for connection, whether it be a deeper connection to self, looking to connect with others, or needing to be reminded about our connection to nature, spirits, higher powers, or God," concludes von Salm of her full-moon gatherings. "Smartphones and social media create the illusion of being connected, but nothing replaces being present with another human in person."