When the award-winning interior designer Nicole Fuller isn't jetting off to London or Los Angeles for a project, she is home in New York's Chelsea neighborhood. The founder and principal of Nicole Fuller Interiors works with private and commercial clients around the world to create one-of-a-kind spaces in homes, hotels, stores, and everything in between. Fuller is also a noted art consultant, and has held partnerships with numerous home decor brands including The Rug Company and Savoir Beds.

She and her husband, artist Alexander Yulish, live with their three cats (Hip, Hop, and Rock), in a landmark building in West Chelsea. Here, Fuller shares her favorite restaurants, galleries, and neighborhood spots around Chelsea.
Orchard Townhouse
"The newly-opened Orchard Townhouse was founded by the mastermind owners behind The Fat Radish," Fuller says. One of the co-founders, Phil Winser, was featured in our portfolio of Englishmen making waves in New York, published in our latest issue. The American brasserie is open for breakfast, lunch and dinner, and Fuller adds that "they're known for their specialty cocktails and the intimate bar."

Orchard Townhouse, 242 Tenth Avenue Between 24th and 25th Streets
Pace Gallery
The contemporary art gallery's must-visit Chelsea headquarters opened in the fall of 2019. Fuller loves the Pace Gallery for "their amazing exhibits and rooftop views."

Pace Gallery New York at 540 West 25th Street
La Bergamote
"I love La Bergamote for French pastries and coffee," Fuller says. The patisserie and restaurant are known for their breakfast and brunch, and there are all-day dining options with a focus on fresh ingredients and French staples such as French onion soup, duck nicoise, and cassoulet.

La Bergamote at 177 Ninth Avenue between 20th and 21st Streets
192 Books
For a local bookstore, Fuller recommends 192 Books. The Chelsea mainstay has a curated selection of titles and a number of in-store events, from conversations between authors to a weekly story hour for children.

192 Books at 192 Tenth Avenue at 21st Street
Bottino
"This 20-plus year old Chelsea cantina is the perfect spot for the very best Barolo and pasta Bolognese," Fuller enthuses. Bottino's menu focuses on Tuscan dishes, with a top-notch wine list as well.

Bottino at 246 Tenth Avenue Between 24th and 25th Streets
Harbs
For an afternoon treat, Fuller recommends Harbs. "This Japanese bakery is our absolute go-to for cake and tea. They also have a wonderful lunch menu." Harbs has three locations in New York, with a SoHo and Upper East Side spot in addition to this one in Chelsea.

Harbs at 198 Ninth Avenue at 22nd Street
David Zwirner
The acclaimed contemporary art gallery, a favorite spot of Fuller's, has two locations in Chelsea, including a five-story building on West 20th. The lot was once a parking garage, but DAVID Zwirner converted it into a spacious gallery that opened in 2013. Fuller notes that the "airy space" is "well-known for their selection of contemporary art."

David Zwirner Gallery at 525 West 19th Street and 537 West 20th Street
Cookshop
"Cookshop is one of the best New York restaurants–it's great for any circumstance," Fuller says. "I love it for early morning breakfast meetings and I always order their English breakfast tea with honey!"

Cookshop at 156 Tenth Avenue at 20th Street
Forty Five Ten
Fuller is a devotee of the newly-opened 16,000 square foot boutique Forty Five Ten in New York, which also has locations in Napa, Aspen, and Dallas. "This iconic luxury fashion and beauty boutique is located in the new Hudson Yards," Fuller says. "The husband-and-wife team behind Forty Five Ten have the best eye for what's new, now, and next."
Forty Five Ten at 20 Hudson Yards, Level 5
Paul Kasmin Gallery
"Kasmin is a beautiful gallery with an array of unique art," Fuller says of the neighborhood fixture. Kasmin was one of the earliest galleries that migrated to Chelsea in 2000, and is now known for supporting a range of contemporary artists and displaying large-scale sculpture projects. .

Kasmin Gallery at 509 West 27th Street
Jeffrey
For high-fashion picks, Fuller stops at Jeffrey on West 14th. "There's always an incredible collection of fashions."

Jeffrey at 449 West 14th Street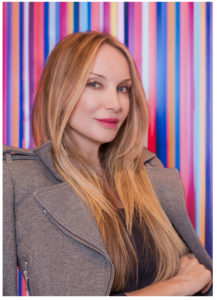 Learn more about Nicole Fuller Interiors here, and follow Fuller on Instagram here.