Leonard Cohen's "Hallelujah" has been on repeat at Eric Fischl's home studio recently. "I got into a jag where I was just listening to it over and over and over again — it's so deep," says the figurative painter and sculptor, who used the soundtrack to propel him as he finished a painting called Broken Hallelujah. This new piece was inspired by an upcoming group show centered on the theme of boxing that he's co-curating for the big summer showcase at the Church, the former house of worship that sits just off Main Street in Sag Harbor, which he and the artist April Gornik, his wife, have lovingly restored and rechristened as a community art hub.
Broken Hallelujah is a self-portrait, as he describes it, with the artist's hands wrapped in bloodied boxer's tape, seated in a pose reminiscent of the Greek bronze sculpture Boxer at Rest, with paintings of his three longtime muses behind him, one of them, of course, being Gornik. "I've learned everything about how to see where we live from her, from looking at her paintings," says Fischl about Gornik's body of vivid, dramatic landscape paintings. Says Gornik, "I started doing landscapes in 1980 — it's been a decades-long meditation."
The pair, who first moved into a little farmhouse on Harrison Street in Sag Harbor in 1985, approach their work in very different ways — and from studios on opposite sides of the same house, a second one they built together in 1999. But they share a common vision in the community-building restoration and preservation work they've taken on over the years since landing in this little village by the sea, the latest being the Church, where we are meeting today.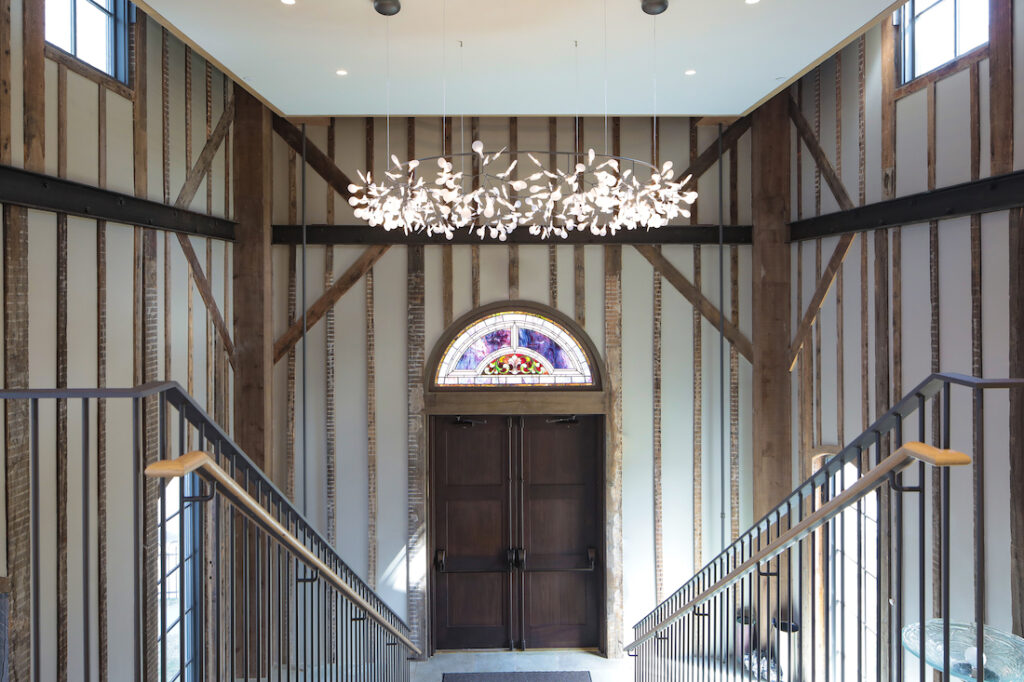 It all started with Gornik's activism to deter a CVS from moving into a part of town that's now a public park. The community rallied — and celebrated together: "We had a big party on the village wharf, and everybody showed up," recalls Gornik, her eyes alight at the memory. "I remember people telling me they'd never seen the dry cleaner outside of the dry-cleaning business before. Everybody came!" (That dry cleaner, sadly, is no more: the victim of outrageous retail rents — "a plague out here," she notes with a sigh.)
From there, the duo spearheaded a campaign to save the iconic Sag Harbor Cinema. Gornik's Herculean effort to ensure the town landmark remain a theater breathed new life into a then burnt-out structure that was on the brink of sale and development (it almost became a mini mall). She's now hard at work on preserving the home where John Steinbeck once lived and wrote; the day we meet, they're just shy of $75,000 of their goal to purchase the place. "It's literally a once-in-a-lifetime opportunity," says Gornik. "It's all intact — his sharpened pencils are still in the gazebo where he wrote." Notes Fischl: "This is also a man who's a Nobel laureate in literature that got his Nobel for something he wrote about this town, in this town! Why wouldn't you try to preserve that, and preserve the legacy of great writing?" And there's good news — on March 30, the purchase was finalized and the home will be preserved.
Gornik's skill at resuscitation extends beyond historical sites, apparently. Amid a two-hour-long conversation, she excuses herself to go give the couple's 17-year-old kitty its scheduled medicine. "She's a genius at keeping the cat alive," says Fischl, reverentially.
We are seated today upstairs in the library area of the Church, the couple's impressive art space that serves as part gallery/artist residency and part community center. Its very existence is a direct result of the save-the-cinema campaign, which Fischl kicked off with $1 million of the couple's own money. What followed was a gigantic community effort. The next million came not from the titans of industry out east, but in the form of donations of the $50 and $500 sort, from a wide swath of the community — a grassroots effort that's more akin to, say, AOC's fundraising than what you'd expect from a Hamptons undertaking. The message became very clear: there's a strong desire for community and for the arts here.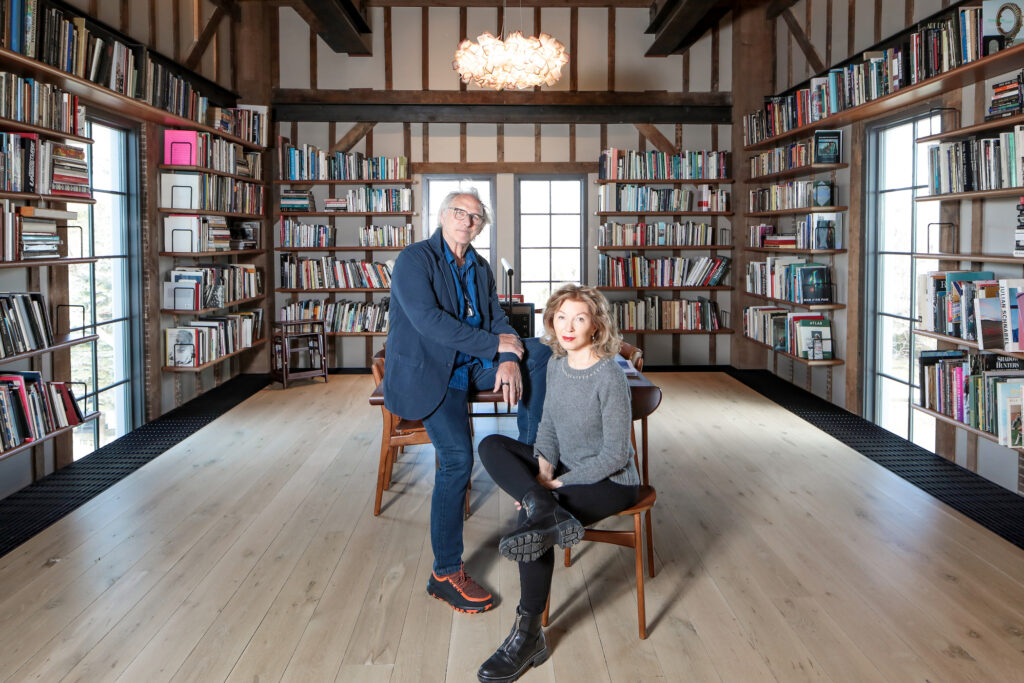 The remainder of the funding, notes Fischl, "didn't come from people who make money in this town — real estate developers, restaurateurs, shop owners, etc. — it came from artists and creators successful in their field, filmmakers, and people from music and theater." Adds Gornik, "And art collectors — people who love and appreciate culture and understand how culture can move a place forward and bring people together."
It gave the couple the drive to find a space for "the other arts," recalls Fischl. "We have Bay Street Theater for live theater, and we have the cinema. This church was available, and it also sort of fabulously anchors Main Street, so that these three arts institutions are part of a walk."
The 1835 white clapboard Methodist church — which was originally constructed in a Greek Revival style and then reimagined 29 years later in Italianate style, replete with a new bell tower — had sat empty and abandoned for well over a decade. Because of her community activism, people would often approach Gornik about it: "For 12 years before we bought it, people would ask me, 'Do you know what's happening with the church?' It was surrounded by a hurricane fence, with a shredded covering over it. There was tarp in the windows, blowing around, and snowflakes drifting in."
It was privately owned for a time and was almost turned into some iteration of an ostentatious McMansion, complete with saunas on every floor and indoor-outdoor swimming pools. (Very Hamptons, perhaps, but wildly out of place in historic Sag Harbor, notes Fischl.) As luck would have it, that owner did much of the very expensive structural renovation and steel reinforcement needed before he ended up getting divorced. When he no longer needed the space for a family home, it was up for sale again, and Gornik and Fischl swooped in to save it and turn it into a community arts hub.
"One of the things we were fortunate to see when we walked into the unfinished skeleton of the building was the extraordinary craftsmanship, looking at the bones of this place, all hand-hewn material, and the incredible design as to how they put a building together without nails, that lasted all this time. The stonework downstairs — all of that stuff was so inspiring," says Fischl.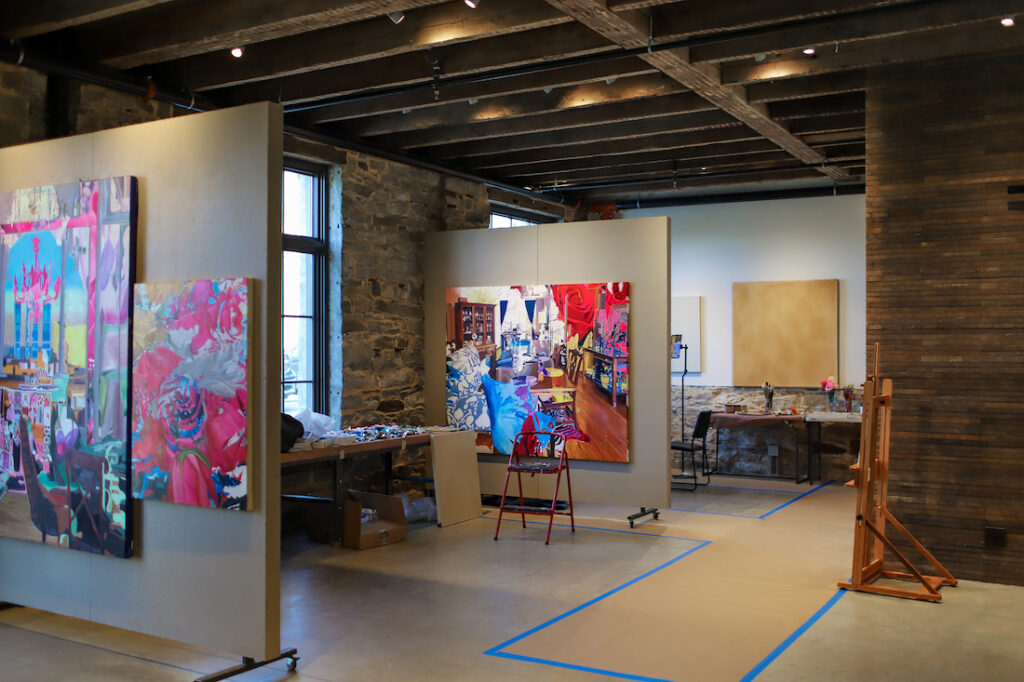 It also fit well with the couple's understanding of Sag Harbor being what Fischl refers to as a "maker society," a point of distinction from the other hamlets out east. "The other communities were built around fishing or agrarian, a lot of local consumption, so their sense of the world is smaller. But in Sag Harbor, they made things that went out into the global economy — whaling ships and rope making and lunar landing parts, silverware factories. Edison made and tested his timers for torpedoes here. It's always been a maker industry. So, the town feels like it knows that they are part of a larger thing, rather than the only thing."
In each of its windows is an especially inspired touch for a building that used to be an actual church: Fischl's portraits of 20 historical Sag Harbor creatives, such as writers James Fenimore Cooper, Betty Friedan, and Herman Melville; choreographer George Balanchine; poet and playwright Langston Hughes; and actress Elaine Stritch. "In the past, churches put their saints in the windows, so I thought, let's put our saints in the windows," says Fischl. The criteria: they had to be deceased (just imagine the egos at play jostling for better placement, had he included the living!), and they had to be specific to Sag Harbor, not just the East End at large. The message to artists and all sorts of creatives living here: "From small places, greatness can grow," says Fischl.
He could be describing the Church itself. Since they opened the doors on April 15, 2021, they've hosted 96 events and counting and seen upwards of 15,000 people come through its doors. "The fundamental aspect of churches within community, maybe at its most basic level, is community," says Fischl, "and is the way of exchanging in a belief in something higher, whether its gods or culture—and that's something that's being easily demonstrated by the way people have been enlivened by the presence of this place."
"Coming out of Covid, people were just so grateful to have this space — and the cinema — to go to. We've had a lot of things that were spiritually moving in terms of the feeling that you got from it," notes Gornik. "Everybody got why we were doing this."
"The zeitgeist of the time, too, is that people are looking for ways of reconnecting to a deep history as part of an identity quest and a sense of belonging," surmises Fischl. "Obviously, that's exacerbated by [stage whispers]: What the hell is going on out there?"
In here, there's a lot going on: a robust artist residency program in its basement, and all sorts of community happenings, ranging from events like a Duke Ellington-style big band dance with jitterbug lessons, to a regular knitting circle and a newly instituted quilting circle ("By popular demand!" notes Gornik). There are also community talks with locals, including a firefighter who helped tame the blaze that engulfed the cinema; the owner of the Sag Harbor Variety Store, aka the local five-and-dime; and the town police chief. And of course, the main event: art shows in the 10,048-square-foot space, which the two artists have taken turns co-curating with their executive director, Sheri Pasquarella, and chief curator, Sara Cochran. They've made it a point to stage exhibits that speak to a wide range of people, with themes around water, thread, and, next up, boxing, to provide an easy way for the everyday citizen to appreciate art.
It's an ambitious scope that's confounding to some art world types, but it suits the duo just fine. They're all about community building and celebrating this town's history of makers. "I was describing what we're trying to do here to a friend, and he said, 'Oh, I get it, this is like a great student union building,'" recalls Fischl. "At first, I was so upset — look at this place! It's such a beautiful space, and art! But then I thought, if we could get it to feel like a student union, with that sense of ownership that everybody has, the way people walk through it or just hang out or go sit in a corner and read, that would be the way to use this place. That would be amazing."
They've certainly tapped into a broader need out here. In addition to the Church, there's been a slate of new nonprofit art spaces that have come into being in the past few years throughout the East End: Lisa Perry's Onna House, showcasing women artists in East Hampton; the Southampton African American Museum ("A little nugget of richness," enthuses Gornik. "I love it!"); Ma's House ("That's Jeremy Dennis, he's also on our board," says Fischl. "He's a young artist and Ma's House is his grandmother's house that he's turned into an artist residency — he's doing a lot for the reservation and getting the stories out there"); and Duck Creek in Springs. What does all of this mean? "It's a stake in the ground, for having a certain kind of fun enrichment that people are dedicated to out here, and believe in," says Gornik. "Everybody's trying to make it happen. It's really inspiring."
"There's a shift generally from consumer culture to an experiential one," continues Fischl. "The arts are very much at the center of that, so the timing is right for this. Plus, the incredibly rich history of this place, all the way out to Montauk and the North Fork — the bloodlines are there. So, to keep the vibe of creativity, it's kind of a no-brainer. People are doing this in really inventive ways."
Hallelujah.