Libbie Mugrabi recently exited from the billionaire New York art-dealing family after a messy public divorce from her ex-husband, David. She asked for $100 million, and described herself as "very satisfied" with the final settlement.
But that hasn't stopped her throwing grenades at her popular and fashionable former sister-in-law, Colby Mugrabi, on the way out the door.
Libbie claimed Colby was "selfish," tactless about the date of her wedding, and "not maternal," adding that since the other woman was childless, her own two children would be the sole heirs of the reputed $5 billion Mugrabi family fortune.
"They're going to get everything," she told the British magazine Tatler in an interview for its most recent print issue, the text of which is not online.
But in a surprise twist, it now seems likely that unbeknownst to Libbie, Colby was pregnant at the time of these remarks. Basking in congratulations from famous friends on Instagram, is Colby having the last laugh?
Tattle Tale
Libbie has lately been spending more time in London, hunting for a home in Mayfair, and backed by the considerable cash and art she got from the divorce — including a Warhol of Jackie Kennedy, multiple works by Richard Prince and Damien Hirst, and a 1982 Basquiat, among many others. She is letting it be known that she is considering making sizable donations to major British museums, including the V&A and the Tate Modern.
Such philanthropy is "not only for myself but for my children," she said.
"Mary [aged 13] and Joseph [aged 11] are the heirs to everything and they're going to get everything," she said, referring to the billions amassed by their grandfather, Jose Mugrabi, 81. "So what are they going to do? These two little kids that have all this stuff? So we need to make sure they're involved with museums."
Tatler pointed out that Jose also has an elder son, Alberto (known as Tico.) He married the former Colby Jordan, a private equity heiress who fashion blogged as Minnie Muse, in a lavish wedding at the Hôtel du Cap-Eden-Roc in 2016. The magazine asked: Might not Colby, who is 23 years younger than her husband, also produce Mugrabi heirs?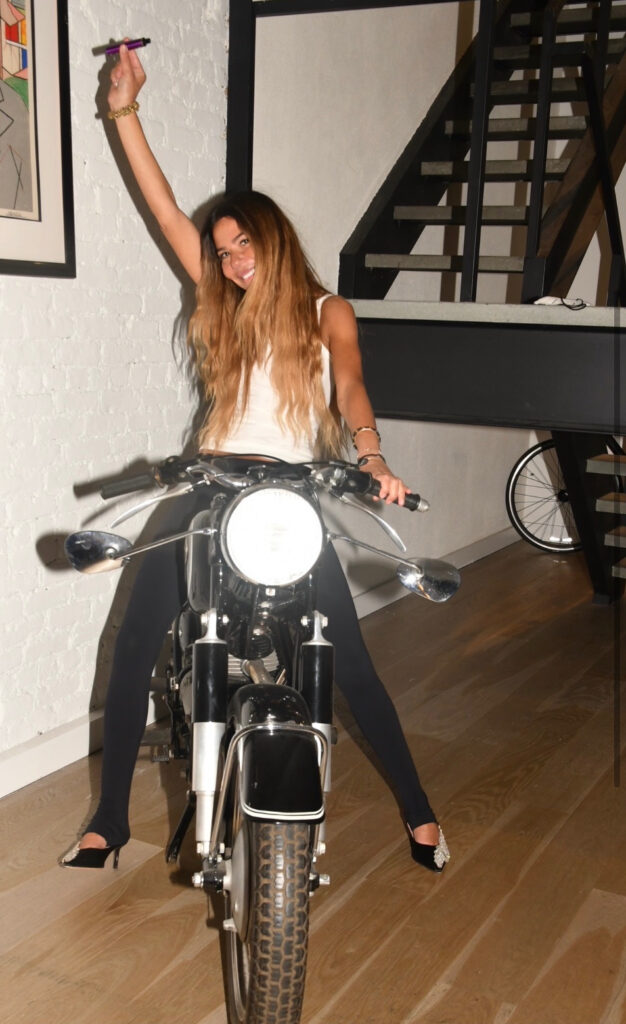 In fact, on January 29, weeks after the interview took place, Colby posted an Instagram photo of her silhouette with a small stomach bump, which many commenters interpreted as a pregnancy announcement. Congratulations poured in from high-profile fashion friends including Poppy Delevingne, Brian Atwood, Gucci Westman and Carlos Souza; her husband commented with love and gratitude emojis.
But Libbie had already said: "Colby has not had a child yet. Colby is not a maternal woman — they got married on my wedding anniversary, I guess about six years ago. Colby is very about Colby, and I think that's a good thing. I think women need to be more selfish, and I learned a lot from her and her selfish ways."
She added: "Tico always said he wanted two kids by the time he was 40, and he's 50 now…"
Such icy feelings don't extend to the entire Mugrabi clan, however. She described both her former father-in-law and ex-husband as "amazing." (An educated observer might draw their own conclusions about whose names did, and didn't, make it into any non-disparagement clause.) And she has previously said positive things about Tico, including that he was the Mugrabi brother she initially though she would marry.
A lawyer for the Mugrabi family did not comment yesterday.
Nothing But Good Vibes
In addition to a potential part-time move to London, the blithe divorcée has been working on a slew of projects in the US. These include a range of "Libbie"-branded personal accessories that she launched last week at a dinner with Alvin Valley in Palm Beach. Products in the range include caps and handbags, as well as more intimate items, such as flavored condoms and even a slender vibrator, which she sometimes wears around her neck as a pendant.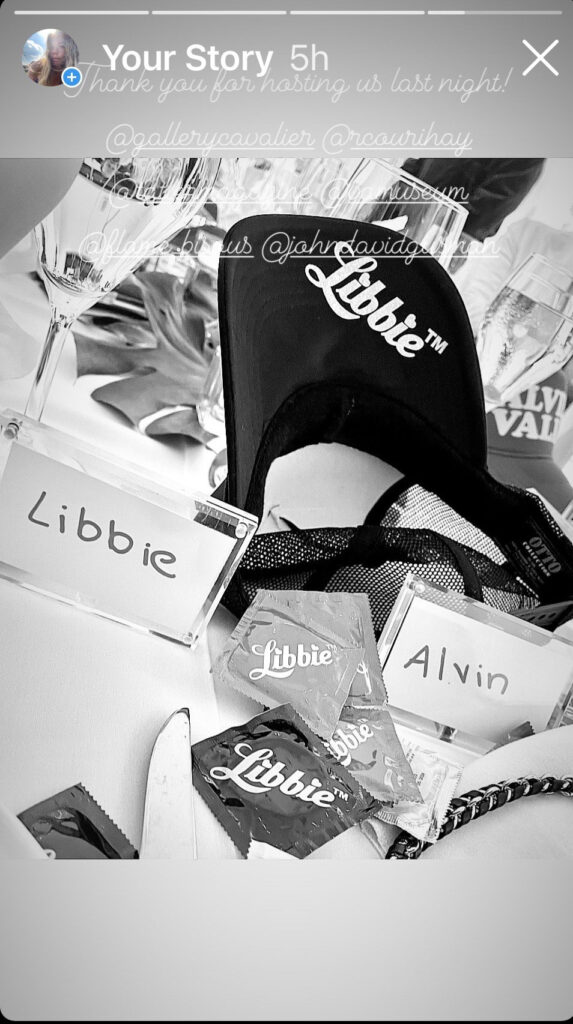 The handbags will be hand-painted in collaboration with artists including Linjie Deng, Mickey Eskimo, and Kenny Scharf, a spokesperson for the brand explained. (He didn't know what flavor the condoms were, but we're guessing they taste like money.)
And as for the outspoken comments about her former sister-in-law?
"I say things most people won't say," Libbie admitted to Tatler. "Most people have a hard time being direct and honest. I don't, because I'm not looking for a popularity award."