Growing tensions inside the Kushner family exploded into view this week, in the wake of the storming of the Capitol Building by right-wing insurrectionists.
At least two public rifts have opened up in the billionaire New Jersey real estate family, whose proximity to the Trump administration may expose them to legal recriminations after Wednesday's events. Michael Sherwin, the acting U.S. Attorney in Washington, D.C., said yesterday he intends to prosecute not just those who breached the Capitol, but also actors who stayed behind the scenes.
"Anyone who had a role and where the evidence fits a crime," will be targets, he said. That possibility certainly seems to have set the Kushner family squirming.
First, the feud between the families of Jared Kushner and his left-leaning brother, Josh, broke out into a skirmish on social media, ignited by Josh's wife, the model Karlie Kloss.
Additionally, even the brothers' father, Charles, who was pardoned by President Trump less than three weeks ago for convictions on a slew of federal charges dating back to 2004, is seeking to distance himself from the disgraced administration. In what appears to be damage-control mode, he is telling appalled friends that Trump's behavior is "beyond our control," according to private correspondence obtained by the New York Times.
The "our" seems telling.
At their wedding, Kushner senior previously "joked" that Jared's new wife, Ivanka, only barely qualified to join his illustrious family. The President's niece, Mary Trump, who attended the celebration, wrote in her 2020 book Too Much and Never Enough: "Considering that Charles had been convicted of hiring a prostitute to seduce his brother-in-law, taping their illicit encounter, and then sending the recording to his sister at his nephew's engagement party, I found his condescension a bit out of line."
But the most public spat was between Kusher's and the President's adult children. As rioters stormed the capitol on Wednesday, Ivanka Trump took to Twitter, calling for peace while addressing the rioters as "American patriots." The tweet was later deleted, but not before provoking criticism — including from her sister-in-law, Kloss.
"Accepting the results of a legitimate democratic election is patriotic. Refusing to do so and inciting violence is anti-American," Kloss wrote. Her post quickly went viral after a Twitter user suggested she send the message to her in-laws.
"I've tried," she replied.
While some on Twitter praised Kloss for acknowledging that she has brought up politics at home, influential writer and actress Tavi Gevinson was having none of it.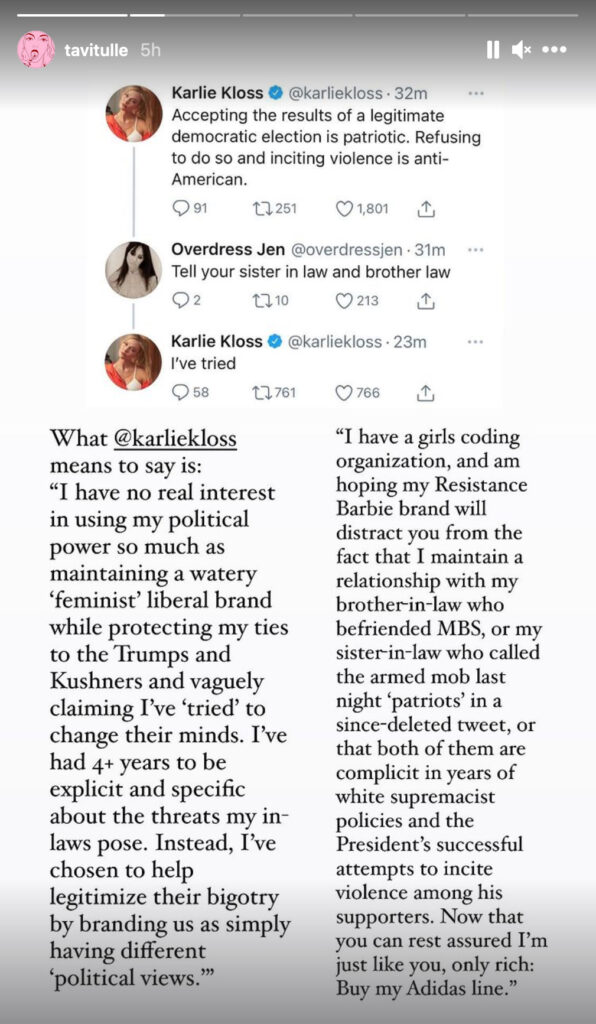 "What [she] means to say is: 'I have no real interest in using my political power so much as maintaining a watery 'feminist' liberal brand while protecting my ties to the Trumps and Kushners and vaguely claiming I've 'tried' to change their minds. I've had 4+ years to be explicit and specific about the threats my in-laws pose,'" Gevinson quipped on Instagram, also referring to Kloss as "Resistance Barbie."
Gevinson previously criticized Kloss for what she saw as hypocritical support for the Black Lives Matter movement.
For more on the feud, read our November story, "When Dynasties Divide."
PS — unrelated, but as a New Year's bonus — here's a picture of Josh and Jared Kushner with Ghislaine Maxwell: